🇺🇸 We Ship From US!
Relieve Neck Pain With Just 15 Minutes A Day 
Instead of the traditional vibration that many massagers claim to have, our Massalogy Neck Massager uses a special, low-frequency electric pulse for instant relief and maximum comfort.
It has 3 different massage modes that replicates the traditional acupuncture and deep-tissue massage therapy allowing your stiff connective tissue to relax and release almost instantly by accessing the depths of your trigger points.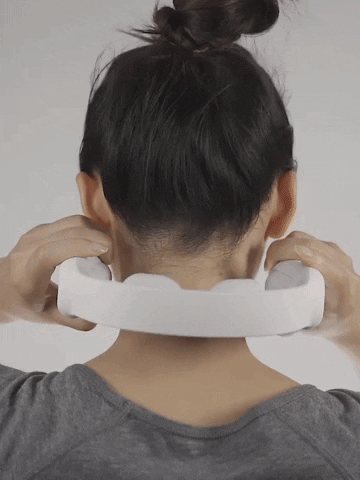 I absolutely LOVE this Neck Massager!
"This neck massager works like a charm. I struggled with neck pain time and time again. Now I can help alleviate some of that neck pain thanks to this. I'm definitely very pleased with how easy it is to use and how well it works"
-Charlene S.
How Does This Neck Massager Work?
The Massalogy™ Neck Massager uses low electrical pulses and light heating with TENS (Transcutaneous Electrical Nerve Stimulation) technology to help recover strained, stiff, and sore neck muscles.
The way that TENS technology works is that the electrical current stimulates the nerve cells that blocks the pain signals, thus, reducing the pain. The nerve stimulation raises the the levels of endorphins, which is the body's natural pain killer and also reduces the pain.
Enjoy "Life-Like" Massage
Anytime, Anywhere, Anyplace
With is lightweight, compact, and stylish design, the Massalogy™ Neck Massager is perfect for any daily activities. All you need is just 15 minutes day to have noticeable results reducing neck and shoulder pain. The Massalogy Neck Massager is what you need to relieve the pain away.
Relieve Chronic Neck Pain
Feel the soothing warmness with the combination of low pulse cycles and constant applied heat. 
Experience a deep tissue massage by stimulating the nerves, muscles, and blood flow.
Built for Maximum Comfort and Durability
Made from durable 304 stainless steel, the Smart Neck Massager is built to last.
Plus, it's tough elastic arm and soft pressure band makes it suitable for all neck sizes. Expect a firm, comfortable fit.
Key Elements of the Massalogy Neck Massager
Massage
Stimulates the perfect massage with 107.6° F (42° C) heating with 3 massage modes and 15 adjustable strength levels
Battery
With the 1600 mAh battery you can use this massager 15 minutes daily for about 30 days
Design
Compact and portable design so you can take the Neck Massager anywhere and resist against wear and tear
Smart
Automatically turns off at 15 minutes to prevent accidental overuse and maximize battery life
Our Guarantee
We strive to offer you the most innovative products on the market. We give you the guarantee that you will be 100% satisfied. If you are not satisfied for any reason, contact us and we will resolve your issue.
Our products are produced according to the strictest technical standards. We guarantee you a durable and quality product. If the slightest problem occurs to your order, contact us at info@massalogy.com and we will find a solution to your problem together.
USA Shipping
We proudly ship from the US and customers are receiving the Massalogy Neck Massager in about 6-8 business days after processing (1-4 business days)
International Shipping
We have warehouses in multiple different countries to ensure that you will receive the Massalogy Neck Massager fast and easy.
It was extremely soothing. The heating it provides is a good temperature. The messaging goes from levels 0 through 15. I honestly was very comfortable with level 1 and 2 massaging. Its super relaxing after a long work day
I bought one before, but I had to get another one. Really helps with stiff neck and soreness. I feel better already